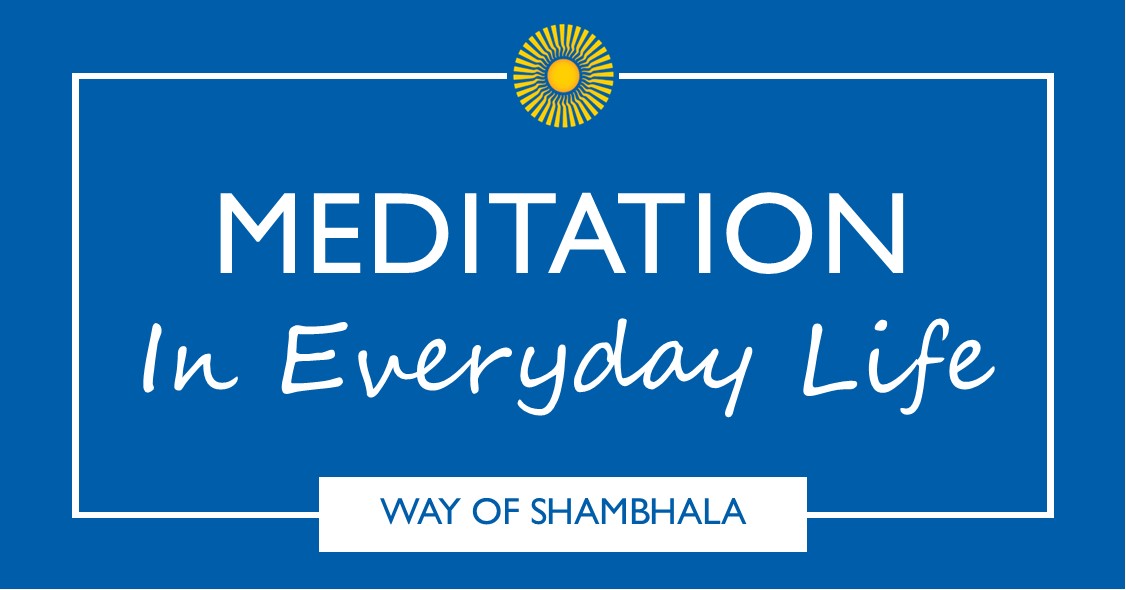 Meditation In Everyday Life | In person and online
with Rebecca McAllister
Meditation in Everyday Life presents peaceful abiding meditation, basic goodness, and ways that meditation practice can improve the quality of our daily life. We experience what happens when we stop avoiding ourselves and the present moment and practice simply being with whatever is going on in our lives. By deepening our experience and understanding of ourselves through the practice of meditation, we more fully become who we already are.
This is the first course in the Way of Shambhala curriculum, and the first of five courses in the Everyday Life series. It offers a glimpse of the Shambhala vision of an enlightened society created through mindfulness-awareness meditation, and how the stability and wisdom cultivated through this practice can expand to benefit the world around us.
Zoom link for online attendees:
https://us02web.zoom.us/j/88453019617?pwd=ZzlzY05vZm00SUhHcytUcTVMM2dLZz09
6:00-6:25 sitting meditation practice
6:25-6:30 tea break
6:30-7:15 talk, discussion and contemplative activities
Meditation In Everyday Life consists of 5 classes addressing the following areas:
Class 1: Peaceful Abiding and Basic Goodness
Class 2: Mindfulness, Awareness and Gathering the Mind
Class 3: Obstacles & Antidotes: Working With Thoughts
Class 4: Genuine Heart of Sadness
Class 5: Everyday Life and Enlightened Society
Although attendance to all 5 classes is recommended, it is not required.
Meditation in Everyday Life combines technique and view in a setting of support and community to provide you with all the tools you need to establish a strong and consistent meditation practice.
As a theme throughout the course, we'll explore the Shambhala view that creating stability and gentleness in our minds can expand outward to our friends, family, neighbors, and to society as a whole.
Give yourself the gift of meditation and infuse your life and the lives of those around you with compassion, caring and kindness.


Generosity Policy
We have a generosity policy to make our offerings available to all who wish to participate. If the program price is an obstacle for you, please consider what works for you, and offer as much of the program fee as you can. For those who can offer more than the program price, we have a "patron price." Your generosity in offering the patron price helps cover the cost for others who are not able to pay the full price.
Please email [email protected] with questions.