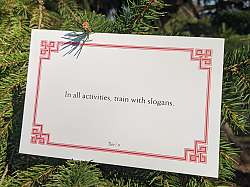 LOJONG THREE: "The Disciplines and Guidelines for Fully Training the Mind"
with Steven Shippee
LOJONG THREE: "The Disciplines and Guidelines for Fully Training the Mind"
with Dr. Steven Shippee
Five Wednesdays: January 26 through February 23
6:30 to 8:00 pm.
Live on ZOOM (Link will be provided after registration and before the first class.)
If you've done either of the Lojong 1 or 2 classes, you know this third class will complete our treatment of Chekawa's 7 Point Mind Training. Point 6 is the disciplines and Point 7 is the guidelines. Each session will begin with the main practice of rousing the mind of enlightenment. We'll spend the rest of our class discussing the very practical instructions of points 6 & 7. You do not need to have taken either of the first two classes; but some familiarity with the lojong slogans is a necessary foundation.
Each session will be recorded. Those who register for the class will have access to all class recordings.
Cost: $75.00/ $90.00 patron. As always, there is a generosity policy that allows you to pay what you can afford if the set price is too high. Also, if you are able, you can offer more to help the Shambhala Center through these lean times.
The Instructor:
Steven has been in and around the Shambhala community for almost 20 years, grateful to be in the company of so many good people and grateful for the teachings he has heard. He delights in the opportunity to pass them on.