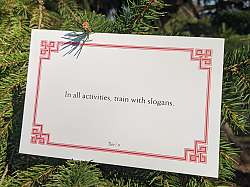 Continuing to Train the Mind: Practicing with Obstacles (and Everything!) in Your Life
with Steven Shippee
This class is a further investigation of the mahayana path of training the mind, using the Seven Point Mind Training of Atisha. It is especially for those who have already had some experience with mind training.*
It will begin with a review of the practice of the first two points: the four reminders and meditations on emptiness and compassion. Upon this foundation, it will proceed to the next several points, regarding working skillfully with obstacles, the so-called 'condensed heart instructions', and the evaluation of mind training, a.k.a. how to really know if your practice is 'working'.
*If you have a question about whether you should take the class, the instructor is happy to discuss it with you ([email protected]; 414-202-0117).
The Instructor:
Steven has been in and around the Shambhala community for almost 20 years, grateful to be in the company of so many good people and grateful for the teachings he has heard. He delights in being able to pass them on.