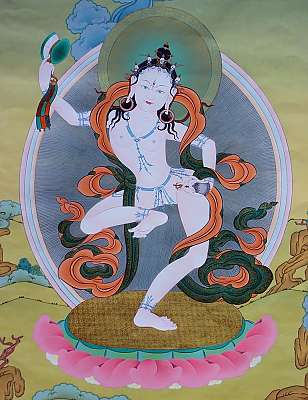 Open House Tuesdays: Women in Buddhism
with Grace Jessen
Machig Labdron 1055-1153 was not only unusual in being a prominent teacher as a woman, but developed the only Buddhist practice originating in Tibet. "Help Those You Do Not/Cannot Help..." is one of Machig Labdron's five slogans. More well known is "Go to places that scare you." Others are "Confess your hidden faults," "Approach what you find repulsive," and "Whatever you are attached to, let it go. "
When we look at what we usually turn away from, in ourselves or in others, willingly, without aggression, we may unexpectedly find more freedom than before we looked. And we may find that things are not exactly what they seem to be. Everyone is invited to this discussion...prior knowledge not needed.
During the pandemic, we will be meeting on Zoom. Simply click here to join us: https://us02web.zoom.us/j/82910957211 The program includes initial group meditation instruction at 6:30 pm, sitting practice from 6:30-7:00pm, and an introductory talk and discussion from 7:00 – 8:00pm.
All are welcome to these free and open sessions. If you would like to make a donation to the Center, please click here ((https://milwaukee.shambhala.org/community/donate/))