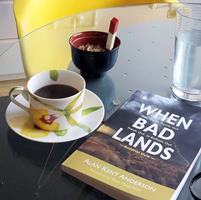 Cafe Shambhala
Every Saturday, 9am - 10:30am
Join us online for our weekly meditation and book discussion group.
For beginners, as well as continuing students, The morning includes initial group meditation instruction at 9:00 am, followed by a reading with group .
Join us here:
https://zoom.us/j/166369071
On September 12, Café will begin reading from Alan Anderson's recent book, "When Bad Lands: How Not to Numb Out, Freak Out, or Bottom Out—Buddhist Style." This book, which was recently awarded the Nautilus Gold prize in Eastern Spirituality includes a Foreword by Acharya Fleet Maull, plus enthusiastic reviews by Acharyas, Shastris, and others.
When Bad Lands is a highly practical handbook for how to apply the teachings on meditation to the more difficult and challenging aspects of our lives.
For 10 Saturdays, Alan will be on hand to discuss and help answer questions about how the book's teachings can be directly applied to our day-to-day experience.
Please order your copy soon so it is in your hands by Saturday Sept 12th.
It can be ordered through Amazon (print, e-book, and soon—audiobook), Boswell books, Woodland Pattern, and HenschelHAUS books. All the ordering can be easily linked from
www.whenbadlands.com
.
(There are also about a half dozen copies for sale at the center.)
We look forward to seeing you there!