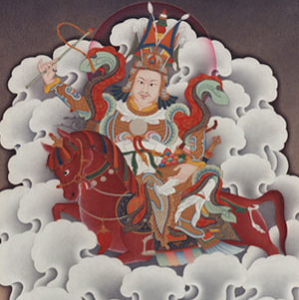 Mixing One's Mind with Lineage Mind
with Sakyong Mipham Rinpoche
Open to students who have attended Sacred World Assembly or Vajrayana Seminary.
In October 2005, the Kongma Sakyong, Jamgön Mipham Rinpoche, taught a Vajra Assembly in Boulder, Colorado, on the Dharmaraja Guru Yoga. He had composed this practice earlier that year, while he was completing the Scorpion Seal retreat at Kalapa Valley.

In this series of three talks, Rinpoche teaches on the guru principle and the unfolding of the Shambhala lineage, referring in a very intimate way to the many aspects of his father's inheritance. He gives instructions on how to approach a guru yoga practice. As well, he offers a commentary on each part of the Dharmaraja Guru Yoga, including some guided practice.
This class is an opportunity for vajrayana students of the Sakyong to gather to study and discuss the principles of guru yoga and in particular the Dharmarja Guru Yoga practice. A study guide is included in the class.