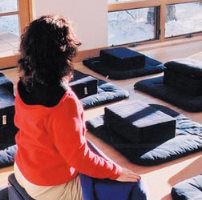 Learn to Meditate
with Napa Chayaworakul
Meditation practice is a life-long journey. In the Shambhala Buddhist tradition, we say that mind is like a wish-fulfilling jewel. It is inherently good, awake and full of potential. How our mind feels about itself and reacts to the world is the basis for much of our happiness or dismay. Through meditation, we learn to take care of our mind and develop friendship with ourselves. This inner peace is what allows us to cultivate greater harmony in the world.
Although one can find the essential techniques written down in many places, meditation remains essentially an oral tradition; individual personal instruction is important for anyone interested in learning to meditate.
This workshop offers a systematic introduction to the practice of meditation. While the program is oriented toward beginning a mediation practice, it is also extremely helpful for anyone who would like to refresh or deepen their understanding. The program will consist of a one and a half hour session on Saturday, June 20th from 2:00 pm to 3:30pm , with a follow up session from 2:00 pm to 3:30pm on Saturday June 27th, The program includes guided meditation, instruction and group discussion.
The Zoom link will be emailed to you once your registration is complete.