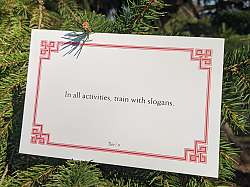 Lojong Group - Online
Please join us online for our Lojong Group, Sundays noon-1pm.
The teachings on Lojong ("mind training") are pith instructions that contain all the essential points of Buddhist practice -- from working with karma to experiencing emptiness, and from cultivating compassion to transforming all of our troubles into occasions of waking up. Based on the teachings of the 10th century Indian teacher, Atisha, these pithy slogans are as helpful and relevant today as they were 1000 years ago.
Sessions go as follows:
- chating of the heart sutra, followed by sitting
- guided lojong contemplation practice
- sitting
- contemplation of a lojong slogan
- discussion
- close with dedication of merit.
If you need a copy of the heart sutra or dedication of merit, please email
[email protected]
Please join by clicking the link below: