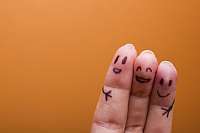 The Path Of Shambhala I: Being Human: It's Basically Good!
with Shastri Deborah Zarate
The Path of Shambhala – A One Day Intensive
Being Human: It's Basically Good!
Saturday, February 29, 9:00am to 5:00pm. A special low one-time price of just $20! ($110 value).

This one-day intensive, the first step on the Shambhala path, introduces the view that human beings, at the core, are fundamentally awake and good. By training in meditation, we learn to remember our natural wakefulness and relax into the freshness of the present moment, no matter what that moment may bring. No experience required. All are welcome.
The program Includes:
• Guided meditation practice.
• Mindfulness meditation talks.
• One-on-one meditation instruction.
• Body Awareness Exercises.
"What a profound weekend; perspective shifting." – Andy, 37
"It feels like everything has changed, even though my life is exactly the same as it was on Friday." - Sarah, 32
"I had been meaning to take this for a long time. It was a much deeper experience than just coming to the weekly talks. I have a new appreciation for retreats." - Robert, 51